Mckenzies Compounding
Updated: Feb 7, 2020
Are you finding it hard to give your pet their medication?
Here's how we can help...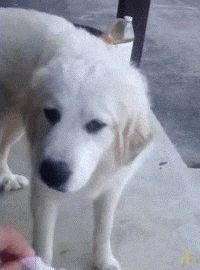 If you are a pet owner, then you have more than likely experienced the headache of administering medication. We can help relieve the stress of medication time by compounding their medication into forms better suited to their needs. Before we dive in, let us define compounding and how it works.


(If the GIF on the right seems familiar - then keep reading!)










What is compounding?
As compounding can be used for many different terms and activities, we are going to define Pharmaceutical compounding. Compounding is the process of mixing raw ingredients to create a medication that is otherwise not available commercially or is more suitable for the customer's individual needs. For example, compounding pharmacies are able turn a tablet into a liquid for patients who are unable to swallow. There are many ways that a compounding pharmacy can help with pet medications so let's address some of the more common issues and your options.
Please note, that when compounding for your pet, we will always speak with your veterinarian to determine that this is the best option for your pet's needs.
"My pet won't/can't swallow their tablet." This issue is one of the most common issues we see. We are able to help by turning the tablet into a suspension. A suspension is a liquid that is given orally to your pet. As it is an oral medication, we are also able to flavour it so that it is tastier, which helps your pet be more compliant with their medication.
"The dosage my pet needs isn't available." In this situation, we can have a chat with your veterinarian to determine what form would best suit your pet's needs. Smaller pets that have lower doses may often need a suspension rather than a capsule.
"The medicine I have is too bitter for my dog." We can incorporate flavours and sweeteners to help with the taste of suspensions. We are careful to choose sweeteners that are not toxic to your pet.
"My dog/cat keeps licking off the cream that I am placing on a wound." We can add a bitter agent to your cream to stop your pet from licking the medication. You'll find once your pet stops licking the injury, the wound will start to heal.
"My dog is prone to reoccurring ear infections." Ear drops for pets can cause a tickling sensation which causes them to shake their head upon application. This can prevent the medication from reaching the infection and curing it fully. We have a base that can deliver the medication into the pet's ear and keep it there. Our unique base called Poloxamer is liquid when it is cold, and becomes a gel when it is warm. When the medication is placed into the pet's ear, the body temperature of the animal will turn the medication from liquid into a gel.
We know how important our family members are. Whether they have scales, fur, feathers or wool - we will have a solution to help them get better.
About Mckenzies Compounding
We are an independent compounding pharmacy located within Priceline Pharmacy Mount Lawley. We first opened our lab doors in 2008, creating quality, customised medications for those who require unique medications.
Unlike many other compounding pharmacies, we have a Laboratory dedicated only to compounding. We house state of the art equipment to deliver a higher standard product, reduce the risk of potential cross contamination, ensure the safety of our staff using hazardous materials and adherently follow the Standard Operating Practices. Our customers deserve the best which is why all of our raw ingredients are sourced from TGA approved facilities where ingredients are tested for potency and stability before being sent to us.
We are a complete resource for patients, doctors, and even other pharmacists in providing solutions for those with unique medication challenges. We are very proud to have found this special niche in our community and will go to great lengths to solve your unique medication needs.
Our expertly trained pharmacists and friendly staff pride themselves on making sure your pharmacy experience exceeds expectations. Visit us today to experience the Mckenzies Compounding Chemist difference